Auditorium
The auditorium at The Barbican seats a maximum of 512
260 seats nearest stage are on the flat and 252 seats at the rear are tiered and retractable rising to 2.60m
Stage Dimensions
Stage depth 5m
Stage width 10.5m
Apron depth 5m
Apron width 15.5m
Stage height 1m
Stage to grid 3.9m (grid is fixed)
Stage to first row of seating 3m
Stage crossover only when back curtain in use
There is a smaller performance space in the auditorium which can seat 100 in the round, this space measures 15.5m wide x 9m deep depending on the way it is used. 12 lighting channels are overhead.
Operation
Lighting and sound control are operated from back of auditorium, control desks can be moved.
House Lighting
Controlled from light desk
Back Stage Accommodation
2 dressing rooms
situated on corridor on the first floor
Each with shower, wc, wash hand sinks, make up mirrors and worktops, 13A sockets.
LIGHTING
Lanterns
18 Selecon Acclaim Fresnel, c/w Barndoor, 16A Plug, Bond, T26 650W Lamp, Black Hook clamp
12 ETC Source 4 Jr Zoom, c/w HPL575, Black Hook clamp, 16A Plug and 10kg Bond
8 Selecon Hui Cyc single unit, c/w P2/12 800W Lamp, Black Hook clamp, Bond, 16A Plug
6 Selecon Acclaim Fresnel, c/w Barndoor, 16A Plug, Bond, 1200W Lamp, Black Hook clamp
Dimming
2 LSC EKO 24-Way Install dimmer, with LSC NET and RCD Protection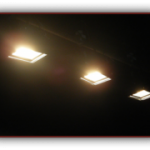 Control
1 Zero88 Jester 24/48
1 DMX Output FOH
1 DMX Input USR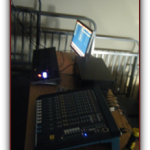 Cable
2 16A FAN OUT soca tail 1m
12 10m 16A Extension cable 1.5mm
12 5m 16A Extension cable 1.5mm
IWB
2 6M Internal Wired Bar, with 6 off 16A sockets mounted on bar
5 5M Internal Wired Bar, with 6 off 16A sockets mounted on bar
Rigging
1 Zargee 41521 Professional 3-part Skymaster 3×8 Rung Ladder (Free standing height 4.12)
1 3.00m wooden A frame ladder
Sound
PA Equipment
2 Martin Audio W8VDQ
1 Martin Audio MA5.2 DSP/amplifier
1 Allen & HeathWZ3 12:2 mixer
1 Digital graphic Equaliser
1 Denon Professional CD player
1 mini disc player
3 mics + stands
2 MA120 mkII active 12″ monitor
2 Shure PG58 radio mics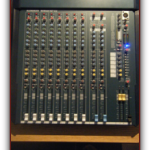 Cable & Connectors
1 75m 16in/4out audio multicore
Drapes
6 WOOL SERGE BLACK DFR 150CM This drape is Unlined Dimensions: 400 cms x 380 cms Fullness:0.00 %
Heading:TIES Sides: HEM Base: CHAIN POCKET
2 Fabric: WOOL SERGE BLACK DFR 150CM Lining: This drape is Unlined Dimensions: 150 cms x 450 cms Fullness: 0.00 %
Heading: TIES Sides: HEM Base: CHAIN POCKET
3 Fabric: WOOL SERGE BLACK DFR 150CM Lining: This drape is Unlined Dimensions: 1500 cms x 60 cms Fullness: 0.00 %
Heading: TIES Sides: HEM Base: CHAIN
1 Fabric: WOOL SERGE BLACK DFR 150CM Lining: This drape is Unlined Dimensions: 1000 cms x 120 cms Fullness: 0.00 %
Heading: TIES Sides: HEM Base: CHAIN POCKET
1 Fabric: WOOL SERGE BLACK DFR 150CM Lining: This drape is Unlined Dimensions: 1050 cms x 450 cms Fullness: 0.00 %
Heading: TIESSides: Sides: HEM Base: CHAIN POCKET
1 Fabric: FILLED CLOTH WHITE NDFR 640CM Lining: This drape is Unlined Dimensions: 1000 cms x 450 cms Fullness: 0.00 %
Heading:TIES Sides: HEM Base: CHAIN POCKET
NEW EQUIPMENT TO THE BARBICAN CENTRE 2017
db Technologies 18″ Active Sub x 2
T Box 15″ Active Stage Monitor x 3
T Bone MB85 Microphone x 5
Seinheiser e835 Microphone & Stand Bundle x 5
Starville RGB Par 56 x 10
ADJ Led Follow spot light x 1
Followspot stand x 1
10m xlr cable x 20
Behringer x32 producer x 1